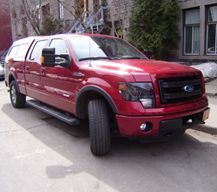 Founded by Jean Martinoli, also known as "Jean, the Swiss", Tronstruction Inc. is a young company based in Montreal (Quebec).
Tronstruction Inc. follows the rhythm of the seasons : outdoor constructions in spring and summer, interior renovations in fall and winter.
Our challenges : to live in harmony with nature, enforce craftsmanship and ensure quality work in accordance with standards of construction.
Tronstruction inc. is member of the ILBA. Founded in 1974, the International Log Builders' Association is a worldwide organization dedicated to furthering the craft of handcrafted log building, to the advancement of log builders, and to the promotion of the highest standards of their trade.
Tronstruction inc.
Licence RBQ : 5661-4043-01